Corporate social responsibility unit and materiality analysis
Corporate Social Responsibility Organization
The Company's part-time unit that promotes corporate social responsibility is the Worldwide Logistics Office, which is in charge of the Company's CSR affairs. It also has six working groups on corporate governance, customer care, supplier cooperation, environmental sustainability, employee care, and social care. Team members are representatives from various departments, including talented professionals with diverse backgrounds, expertise, and experience, who regularly report to the Board of Directors on the results of sustainable promotion.
Sustainability Task Force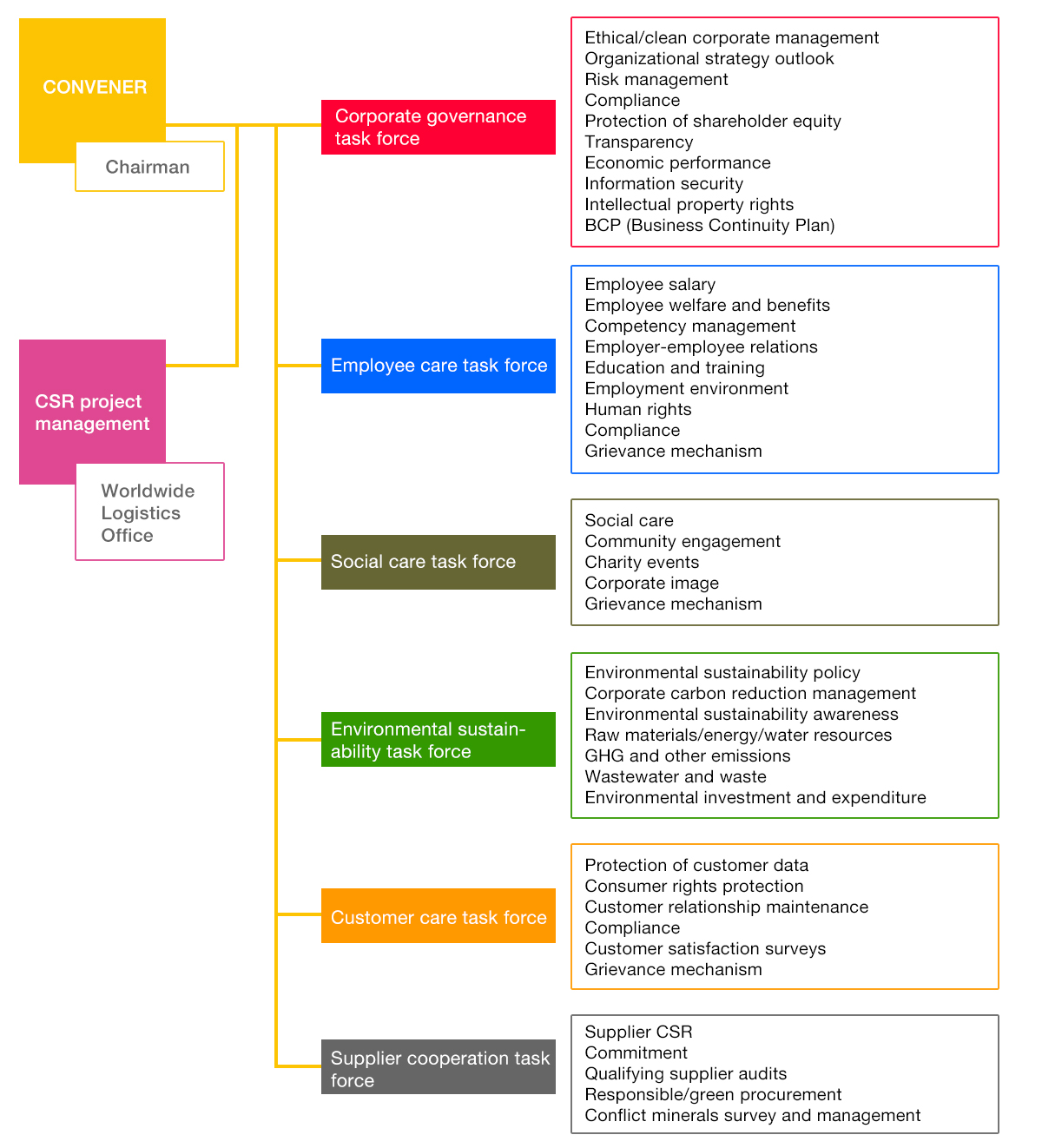 Material Topic Evaluation
The Company follows the guidelines of GRI Standards (standards for sustainability reporting) and AA1000 SES. Through the four major steps of identification, ranking, execution, and communication, it identified and confirmed the topics of concern to stakeholders, and collected and selected 33 key sustainability topics. The topics were analyzed and ranked by collecting the level of concern of peers with respect to the economy, environment, and society; 9 material sustainability topics and 8 moderate topics were identified as the basis for the compilation and disclosure of this CSR report.
RichWave's material topic identification results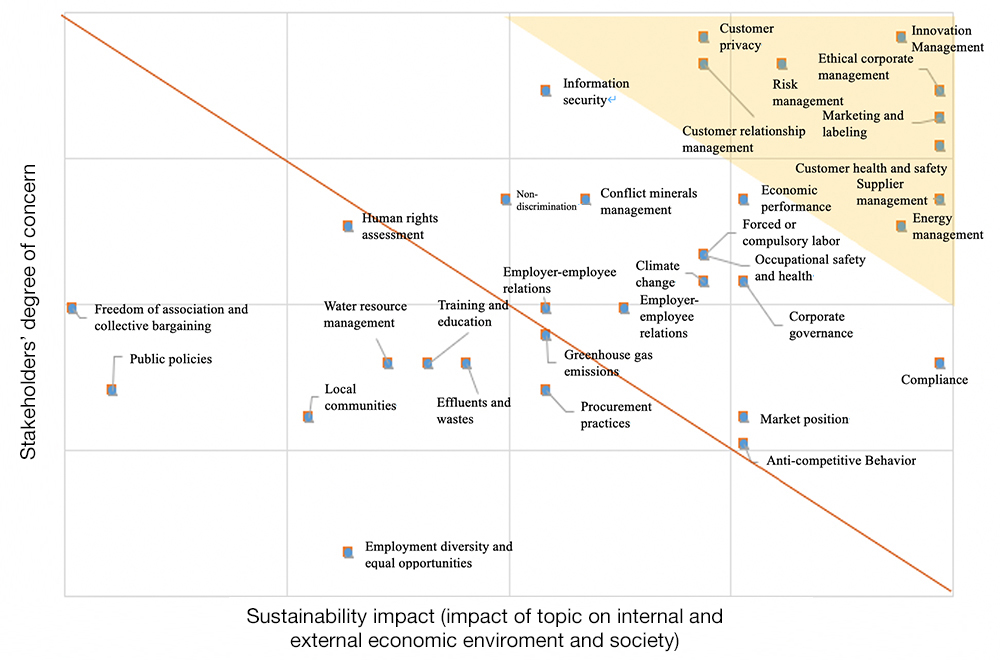 Material topics in 2021
Governance
1
Ethical corporate management
2
Risk management
3
Supplier management
Environment
4
Energy management
Product
5
Customer health and safety
6
Marketing and labeling
7
Customer privacy
8
Innovation Management
9
Customer relationship management

Moderate topic
| | |
| --- | --- |
| 1 | Information security |
| 2 | Compliance |
| 3 | Economic performance |
| 4 | Occupational safety and health |
| 5 | Climate change |
| 6 | Employee-employer relations |
| 7 | Market position |
| 8 | Anti-competitive behavior |

Management Approach to Material Topics
Category
Material topic risk assessment item
Risk Management Policy or Strategy
Corporate Governance
Ethical Corporate Management

The Board of Directors has established the "Ethical Corporate Management Operating Procedures and Code of Conduct" and promotes the promotion and implementation of ethical corporate management.
Education and training courses are provided to enhance employees' awareness of legal compliance in order to ensure that Company employees are cognizant of standards and maintain the order of competition

Risk Management

It has established a cross-unit business continuity planning (BCP) team. With the aim of preventing potential major risk incidents from harming the Company, the BCP team conducts rigorous risk assessments, formulates response strategies, arranges emergency response measures, conducts irregular drills, and continues to improve with respect to the major risks that the Company may encounter.

Supplier Management

Implement supply chain management procedures and require suppliers to comply with regulations:

International quality certifications, such as ISO 9001/ISO 14001/HSAS 18001/QC 080000/IATF 16949/safety standard certification
Suppliers are required to complete the Hazardous Substance-Free (HSF) declaration, and provide material hazardous substances test reports, material safety data sheets (MSDS), and HSF compliance declarations
Suppliers are required to complete a conflict minerals reporting survey (CMRT/CMT)
Suppliers are required to provide quality and reliability reports

Environment
Energy Management

Understand and inventory the electricity consumption and carbon emissions of operating bases, and seek future opportunities for carbon reduction

Product and Customer Relations
Customer Health and Safety

Improve hazardous substance management and comply with RoHS and WEEE compliance regulations through supply chain management

Marketing and Labeling
Innovation Management

In order to strengthen the Company's innovation capability and product competitiveness, and to protect the Company's advanced technological achievements, the Company develops patents that need to be achieved each year and the number of certifications to obtain, and then encourage employees in all R&D units to achieve the goals.

Customer Relationship Management

Conduct regular customer satisfaction surveys, rolling amendments of relevant issues, and maintain good customer relationships

Customer Privacy

Protect security of customers' private data through implementation of information security management