Organizational Structure
RichWave Technology Corp. is established as a cross-unit business continuity planning (BCP) team, with the President as its convener, and representatives from each business unit participating. With the aim of preventing potential major risk incidents from harming the Company, the BCP team conducts rigorous risk assessments, formulates response strategies, arranges emergency response measures, conducts irregular drills, and continues to improve with respect to the major risks that the Company may encounter. On December 23, 2021, the Company reported to its Board of Directors on the status of the Company's risk management identification and response actions and obtained guidance and suggestions from the Board of Directors.
BCM Organization Chart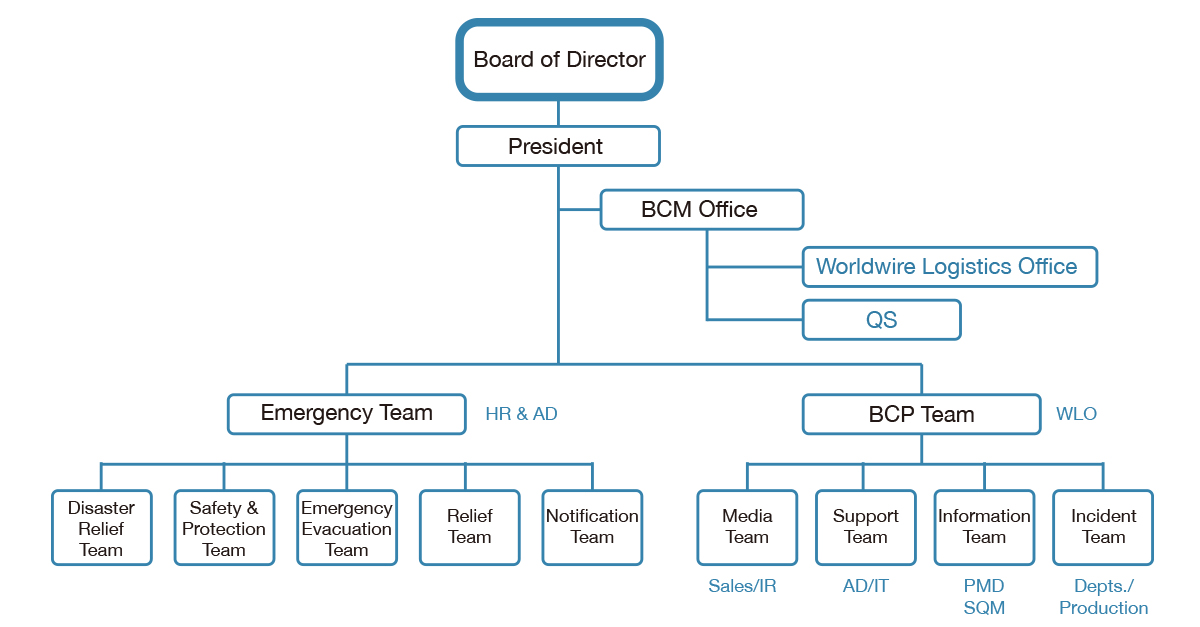 Refer to Emergency Response Team Member List(S-AD-002-04)
BCM Management Flow
◆BCP Flow SOP is established and BCP performance review is included in ISO 9001 management review meeting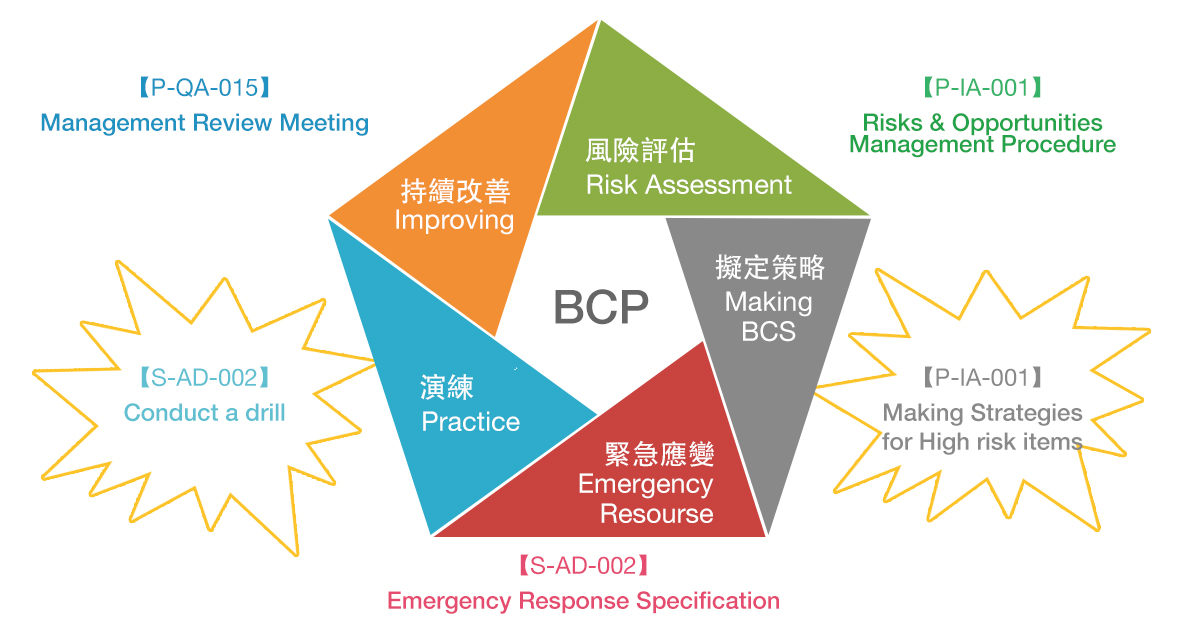 Implementation Status
The Company's major operational risk management mechanism implemented through the BCP system mainly conducted the following projects in 2021:
Pandemic Risk Management: In response to risks brought by the novel coronavirus, the Company has arranged corresponding contingency measures, regularly disinfectes, arranges for its employees to wear masks, and has taken daily body temperature readings of employees. In order to avoid the spread of the pandemic within the Company and negatively affect the Company's operations, RichWave planned work from home (WFH) and split operations systems, encouraged video conferencing and telephone communications, prohibited visitors, and stopped the commute to the Taipei and Hsinchu offices. For employees working in the Company, RichWave planned to conduct daily employee health checks, provided a flexible work system to avoid peak hours of public transportation, and recommended that employees stay indoors for meals.
Risk analysis of water shortages, power shortages, and pandemic situation in each plant area is taken: The offices in Taipei, Hsinchu, and major suppliers' plants in Taoyuan, Hsinchu, Taichung, and Tainan are analyzed. Water shortages, power shortages, and the pandemic situation are evaluated from the two dimensions of probability of occurrence and possible impact. The results are summarized as low, medium, and high risk levels. These analyses are made in order to avoid possible impact on the Company.
Practie
◆Conduct a drill to confirm if plans are workable

Level
COVID-19 Level 3 Alert Effict around Taiwan
RichWave
Level 3

Disinfect periodically
Wear mask all the time
Check temperature daily

RichWave
Policy

Admin

Disinfect office area weekly
Evaluate possibility of WFH or dividing workers into teams
Wearing mask for all employees and venders
Visiting is prohibited, and video conferences call can be approved
No travel between taipei and Hisinchu office.
Using phone call instead of face to face connection
Gatherings 5+ people indoors are prohibited.
Wearing goggles and clean hands before entering Lab, and keep
socially-distance seat with partitions in Lab are required
Lunch outside is not recommended

HR

Monitoring the questionnaires of enployees' self-health and personal contact on daily
Travel in epidemic area is prohibited
Manage quarantine list
WFH or take leave regarding to leave rules
Proceed inview online
Felixable working time for employees whom take public transportation
In addition, for the risk items that the Company may encounter in its daily operations, it has established risk and opportunity management procedures. SWOT (Strengths, Weaknesses, Opportunities, and Threats) analysis is performed based on the Company's background. Stakeholders' concerns and demands, are included for control in the stakeholder risk assessment form by the risk analysis task force. The high-risk items identified in 2020 include the three high-risk items of product competitiveness, price competitiveness, and supplier management. It has been planned to strengthen product auditing, establish continuous project BCP, enhance supplier management procedures and management of key suppliers' on-site stationing, and strengthen Assembly Yield Monitoring for response.